Fiscal Year 2016 Schedule
2016  Apr

Request for additions/modifications for the ECHONET device objects

May

Exhibition at Wireless Japan 2016

Jun

Third Regular General Assembly, Fifth ECHONET Forum

Jul

2016 First Plugfest (Tokyo)

Aug

Sep

Oct

Request for additions/modifications for the ECHONET device objects

Nov

2016 Second Plugfest (Osaka)

Dec

ECHONET Symposium

2017 Jan

Feb

2016 Third Plugfest (Tokyo), Sixth ECHONET Forum

Mar
Plugfest Overview
Background
The ECHONET Lite Specification has been recommended as a known standard media protocol for HEMS in Japan, and is showing signs of spreading. As the HEMS environment is shared by different manufacturers' controllers and devices, it is important to have multi-vendor interoperability and compatibility. However, problems such as differences in interpretation of the Specification or errors in implementation are difficult to discover without connecting other companies' devices.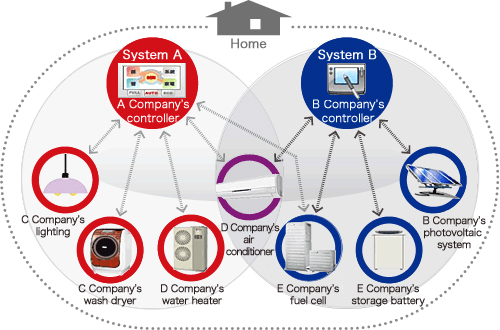 Purpose
By planning "Plugfest" events, ECHONET CONSORTIUM supports member companies in developing products with confidence. The Plugfest provides a low-pressure opportunity for member companies to connect their respective devices, confirm interoperability, and share information on implementation.
Annual Schedule
| | Application period | Dates | Venue |
| --- | --- | --- | --- |
| 1st | Mid-May to mid-June, 2015 | July 14-15, 2015 | Plaza Industry Ota (PiO), in Tokyo |
| 2nd | Late August to late September, 2015 | End of October to early November, 2015 | Panasonic Resort Osaka |
| 3rd | Late December, 2015 to late January, 2016 | End of February to early March, 2016 | Plaza Industry Ota (PiO), in Tokyo |
Please note that this plan is subject to change. The application period, dates and venue for each Plugfest may be confirmed from the provisional and final information announced each time.
Comments from the Previous Participants
*"We were able to confirm interoperability with various ECHONET Lite devices, as well as noticing some problems we had overlooked during in-house tests."
*"We are satisfied, as we had a chance to carry out ample connection tests with actual devices."
*"Points where we had not properly understood the ECHONET Lite Specification were clarified, and we were able to discover defects."
*"We were glad of the chance to discuss ECHONET Lite with other participants."
*"By competing against other devices, we enhanced our knowledge and awareness on both the ECHONET Lite Specification and on our own products."