Plugfest Overview
Background
ECHONET Lite standards are recommended as a public HEMS standard protocol that has been increasingly gaining popularity. In a HEMS environment, controllers and devices produced by various manufacturers exist. Therefore, multi-vendor interoperability and compatibility are key. However, at present, problems such as interpretation of standards and installment errors can be detected only after interoperating devices produced by other manufacturers.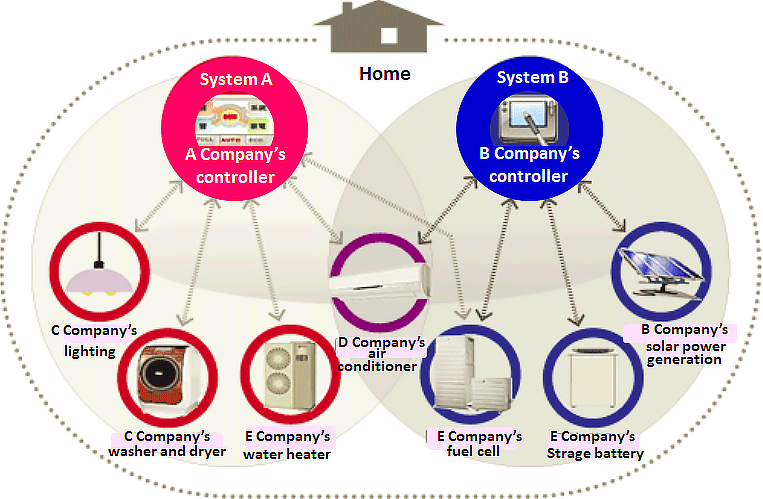 Purpose
The ECHONET Consortium supports member companies to ensure a favorable environment for product development through Plugfest, as a place that they can feel free to bring their own devices to check interoperability and share installation information.
Plugfest Test Method
Interoperability Test Guidelines
Items to be tested
ECHONET Lite communications middleware and applications
ECHONET Lite middleware adapter communications interfaces
ECHONET device adapter communications interfaces
ECHONET middleware adapter communications interfaces
ECHONET middleware and applications/li>
Definition of Terms
Test: A test of connectivity between different manufacturers' devices at the ECHONET Plugfest.
Controller: ECHONET/ECHONET Lite node incorporating a "control function".Node
Device: ECHONET/ECHONET Lite node not incorporating a "control function".
How to Take Part
In principle, tests involve controllers and devices.
Tests are held 1-to-1 as scheduled on the distributed contest schedule (including seating plan and timetable), while changing the combinations of contest partners.
Test times may change according to the number of applications for participation.
When multiple controllers and devices are connected to multiple devices simultaneously, 1-to-N (where N is more than 1) contests are also held.
Open tests are also held in free time.
Example: How to take part in Plugfest and participate in testing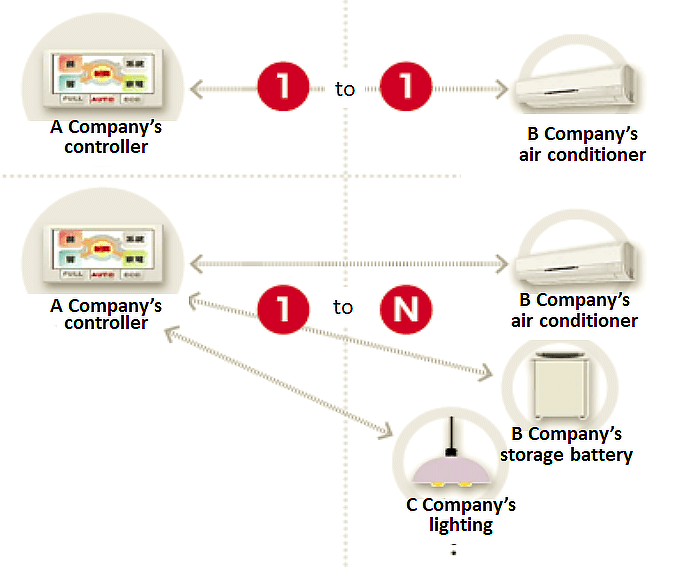 Photo from Plugfest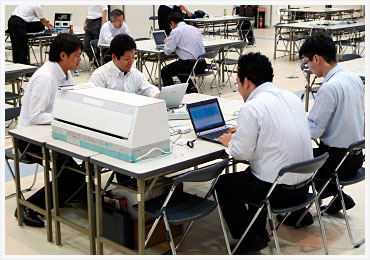 Annual schedule for 2nd FY2018 ECHONET Plugfest
 
Period to accept applications
Planned date
Venue
1st
Late June 2019
August 29-30, 2019
Kanagawa Institute of Technology
HEMS Test Center
2nd
December 2019
February 2020
Kanagawa Institute of Technology
HEMS Test Center
Invitation for the 2nd FY2018
ECHONET Plugfest
Details of the 2nd FY2018 ECHONET Plugfest are announced as described below.
Please spread information to people and departments related to ECHONET development.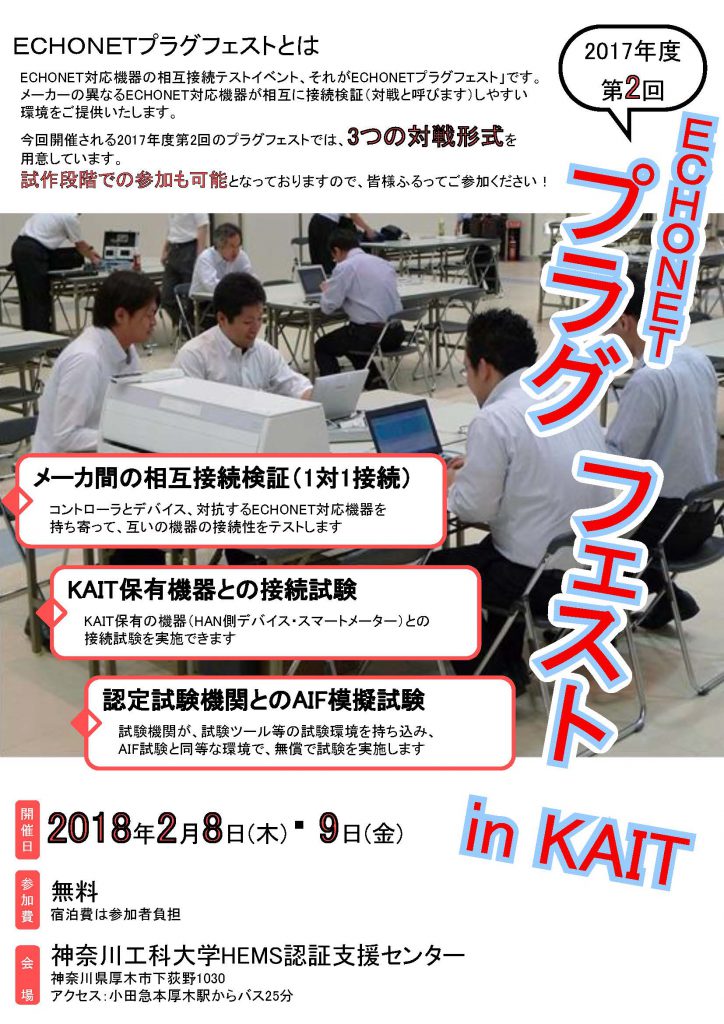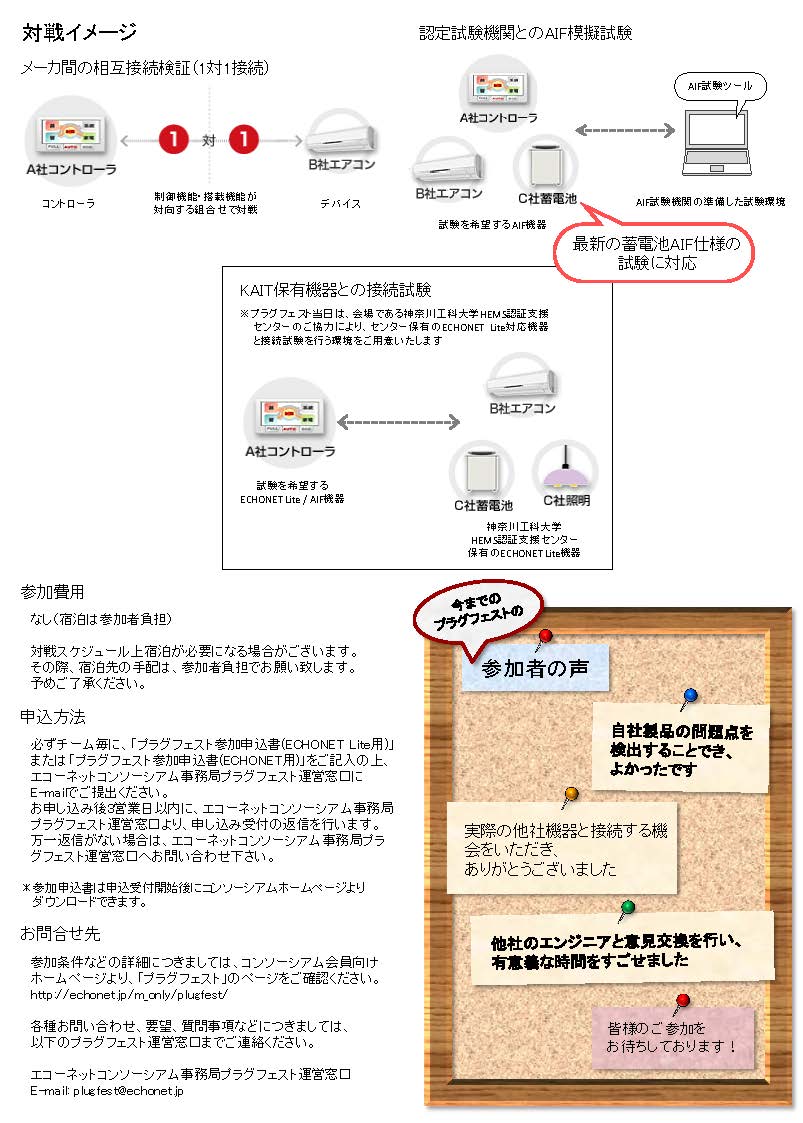 [PDF:428KB]
We hold "ECHONET Plugfest" interoperability test events for ECHONET-compatible devices, providing an environment that will facilitate mutual connection and verification of manufacturers' different ECHONET-compatible devices. For the "ECHONET Plugfest", we invite applications from participating manufacturers and select their contest partners in line with their requested participation format (e.g. full ECHONET Lite devices, ECHONET Lite ready devices, etc.). We then connect their ECHONET-compatible devices and engage all in contests under one roof. Combinations of contest partners are determined by the Interoperability WG.
 According to the schedule, tests are held over the period of two days, but this may be adjusted according to the number of applications (number of contests).
You may wish to conduct additional tests besides the test items that can be implemented on the day of the Plugfest, perhaps because the test time is too short. In such cases, please coordinate separately with individual contest partners and perform testing in your spare time. Please adhere to the period designated for applications, as we will need sufficient preparation time to organize the contest combinations and arrange the venue. We would like to ask all prospective participants for their cooperation in this matter.
Plugfest Participation Eligibility
Each team should complete a "Plugfest Application Form (for ECHONET Lite)" or "Plugfest Application Form (for ECHONET)" and submit it to the ECHONET CONSORTIUM Secretariat Plugfest Management Desk by email.
You should receive an application acceptance from the ECHONET CONSORTIUM Secretariat Plugfest Management Desk within three working days after sending your application. If you do not receive a reply, contact the ECHONET CONSORTIUM Secretariat Plugfest Management Desk.
Participation Fee
None (please arrange your own accommodation and meals)
Please take all your litter with you when you leave.
Please note that you will be responsible for arranging accommodation yourselves.
Eligibility
Prospective participants must satisfy all of the following conditions.
1.The applicant must be an ECHONET CONSORTIUM member company.
2.Team members taking part in the Plugfest must be employees of ECHONET CONSORTIUM member companies, or employees of non-member companies specified in a "1st FY2019 Plugfest Participation Agreement" submitted by an ECHONET CONSORTIUM member company.
3.Plugfest participating members must be able to consent to the following.

(1)Definitions

Plugfest participating members shall include individual team members specified in Application Forms for the ECHONET Plugfest, together with the required personnel from their own companies and from affiliated companies, the ECHONET CONSORTIUM Secretariat, ECHONET CONSORTIUM Interoperability WG members, and businesses entrusted with certain Plugfest operations by the ECHONET CONSORTIUM.

(2)Disclaimer

The Plugfest shall not imply any certification whatsoever concerning the quality of products or devices discovered as a result of the tes

(3)Ban on using information for marketing or advertising activity

Knowledge of the content or results of tests by other participating members obtained during the Plugfest may not be used in any marketing or advertising activity for products or devices.

(4)Obligation to maintain confidentiality

Confidential information concerning the ECHONET CONSORTIUM (including information restricted to members only) obtained through participation in the Plugfest, as well as the content or results of tests at the Plugfest, and information on products and devices brought to the Plugfest by other participating members may not be disclosed to anyone other than Plugfest participating members. However, this shall not apply when general disclosure has been permitted by members participating in the Plugfest.

(5)Management of confidential information

Participating members shall handle and manage the confidential information specified in the preceding clause with the same care as when handling their own confidential information.

(6)Submission of test results and questionnaires

Phenomena occurring during contests shall be entered on Test Result Aggregation Sheets and sent by email to the Plugfest Management Desk (plugfest@echonet.jp) within 1 week after the final Plugfest day, together with the follow-up questionnaire and Specification and certification specification review sheets (submission is optional).

4.Items for self-certification in evaluation target protocols for participation in the Plugfest shall be tested and confirmed in-house as far as possible. However, certification of ECHONET, ECHONET Lite, or SMA need not necessarily be obtained.
Notes
Participation as observers

Neither members nor non-members may take part in the Plugfest for observation purposes.
Test items on the day of the Plugfest

Please coordinate with your contest partners in advance to select and decide test items from the certification specifications to be carried out on the day. If agreed with your contest partners, you may set your own test items other than those in the certification specifications.
Handling of information given on Plugfest Application Forms

Please note that the content of Plugfest Application Forms submitted will be disclosed to all members participating in this Plugfest.
Absence of contest partners

Please note that if there are no applications for participation by potential contest partners for your requested test targets, your contest cannot be held. In such cases, we will notify you to that effect after arranging the contest combinations.
Power source voltage

The voltage used is 100V, 50Hz. If a different voltage is required, please make individual arrangements, such as bringing a transformer.
Power strips, adapter plugs, etc.

Be sure to bring the required number of power strips, GND type (three-prongs) adapter plugs, and other such equipment for your team.The plug shape should be the same as for ordinary domestic use. If you have plugs of an unusual shape, please make adjustments by bringing adapter plugs, etc.
Test environment

There is no network environment (DHCP server, hub, etc.) at the venue. If required, please make your own arrangements.
Liability when necessary certification has not been obtained

The ECHONET CONSORTIUM presumes that the certification required for TELEC, Bluetooth, or others are as specified in the Specification. As such, we can accept no liability arising from a lack of certification when certification is required. Please note that this liability shall fall upon the individual participating manufacturers.
Past Plugfests
Replies to issues highlighted in "Specification and certification specifications"
1st FY2019 ECHONET Plugfest
Dates: Thu., August 29 and Fri., 30,2019
Venue: Kanagawa Institute of Technology HEMS Test Center
Number of teams participated: 5
2nd FY2018 ECHONET Plugfest
Dates: Thu., Febrauary 14 and Fri., 15, 2019
Venue: Kanagawa Institute of Technology HEMS Test Center
Number of teams participated: 7
1st FY2018 ECHONET Plugfest
Dates: Tue., July 3 and Wed., 4,2018
Venue: Plaza Industry Ota (PiO)
Number of teams participated: 5
2nd FY2017 ECHONET Plugfest
Dates: Thu., Febrauary 8 and Fri., 9, 2018
Venue: Kanagawa Institute of Technology HEMS Test Center
Number of teams participated: 10
1st FY2017 ECHONET Plugfest
Dates: Tue., July 11 and Wed., 12, 2017
Venue: Plaza Industry Ota (PiO)
Number of teams participated: 9
3rd FY2016 ECHONET Plugfest
Dates: Tue., Febrauary 22.,, 2017
Venue: Plaza Industry Ota (PiO)
Number of teams participated: 7
2nd FY2016 ECHONET Plugfest
Dates: Tue., November 11.,, 2016
Venue: Panasonic Resort Osaka
Number of teams participated: 5
1st FY2016 ECHONET Plugfest
Dates: Tue., July 12 and Wed., 13, 2016
Venue: Plaza Industry Ota (PiO)
Number of teams participated: 14
3rd FY2015 ECHONET Plugfest
Dates: Tue., Febrauary 8 and Wed., 9, 2016
Venue: Panasonic Resort Osaka
Number of teams participated: 12
2nd FY2015 ECHONET Plugfest
Dates: Wed., October 28 and Thu., 29, 2015
Venue: Panasonic Resort Osaka
Number of teams participated: 8
1st FY2015 ECHONET Plugfest
Dates: Tue., July 14 and Wed., 15, 2015
Venue: Plaza Industry Ota (PiO)
Number of teams participated: 17
4th FY2014 ECHONET Plugfest
Dates: Tue., March 3 and Wed., 4, 2015
Venue: Plaza Industry Ota (PiO)
Number of teams participated: 14
3rd FY2014 ECHONET Plugfest
Dates: Wed., November 19 and Thu., 20, 2013
Venue: Panasonic Resort Osaka
Number of teams participated: 15
2nd FY2014 ECHONET Plugfest
Dates: Wed., November 13 and Thu., 14, 2013
Venue: Plaza Industry Ota (PiO)
Number of teams participated: 20
1st FY2014 ECHONET Plugfest
Dates: Wed., May 28 and Thu., 29, 2014
Venue: Plaza Industry Ota (PiO)
Number of teams participated: 15
3rd FY2013 ECHONET Plugfest
Dates: Wed., May 12 and Thu., 13, 2014
Venue: Panasonic Resort Osaka
Number of teams participated: 26
2nd FY2013 ECHONET Plugfest
Dates: Wed., November 13 and Thu., 14, 2013
Venue: Plaza Industry Ota (PiO)
Number of teams participated: 21
1st FY2013 ECHONET Plugfest
Dates: Wed., July 24 and Thu., 25, 2013
Dates: Wed., July 24 and Thu., 25, 2013
Number of teams participated: 24
4th FY2012 ECHONET Plugfest
Dates: Tue., January 29 and Wed., 30, 2013
Venue: Plaza Industry Ota (PiO)
Number of teams participated: 20
3rd FY2012 ECHONET Plugfest
Dates: Tue., November 6 and Wed., 7, 2012
Venue: Plaza Industry Ota (PiO)
Number of teams participated: 26
2nd FY2012 ECHONET Plugfest
Dates: Tue., June 26 and Wed., 27, 2012
Venue: Plaza Industry Ota (PiO)
Number of teams participated: 21
1st FY2012 ECHONET Plugfest
Dates: Tue., April 18 and Wed., 19, 2012
Venue: Plaza Industry Ota (PiO)
Number of teams participated: 14