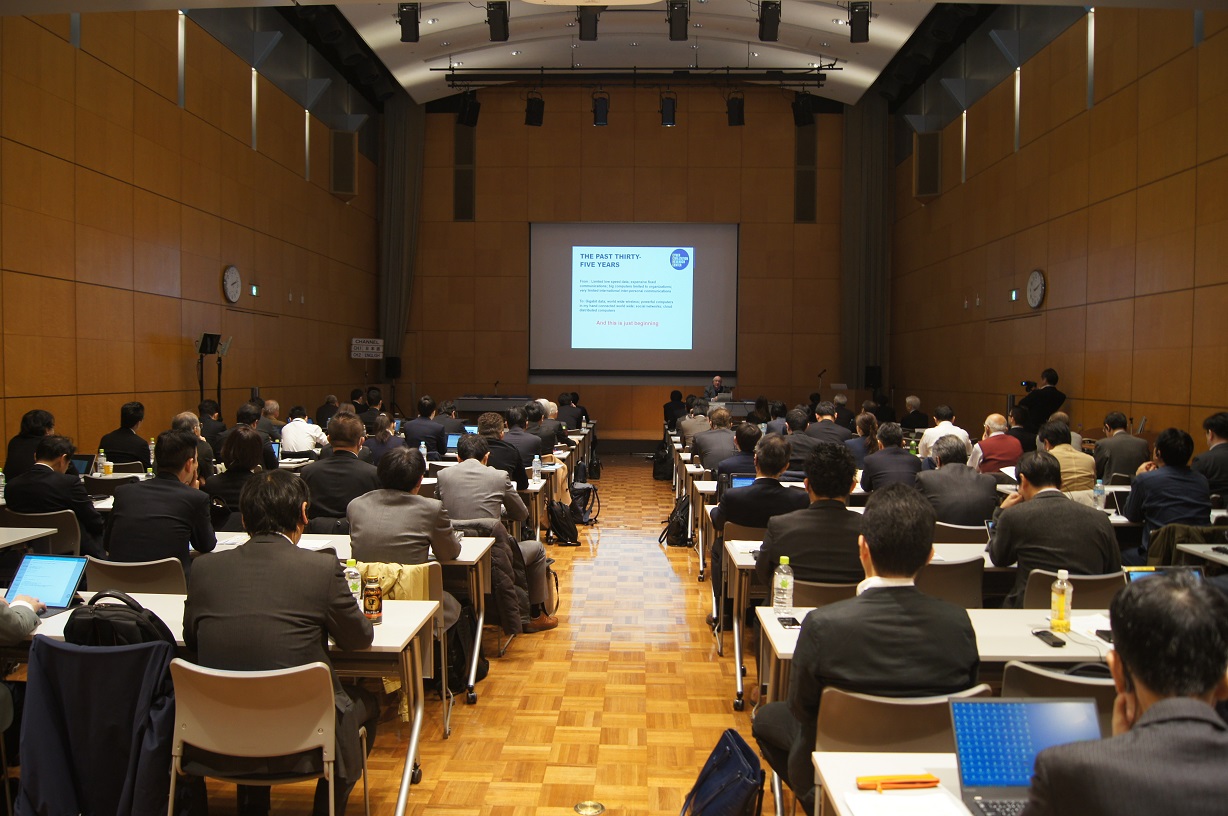 "The Second Home Appliance Open Innovation Symposium―The Future brought by ECHONET 2.0―" was held on December 16, 2019 at the Large Hall, Seavans S Building 1F.(Sponsored by: Keio University Cyber Civilization Research Center, cosponsored by: ECHONET Consortium)
Despite being held during the busiest season immediately before the holidays, the symposium was very well-attended by about 90 members and visitors, and was a great success.
The opening speech given by Mr. Katsuhiko Hiramatsu, Representative Director of the ECHONET Consortium.
Following the opening speech, Mr. Hiramatsu presented the ECHONET 2.0 Vision and the background of the establishment of the Study Problem Working Group under the Board of Directors in order to realize ECHONET 2.0.
A keynote speech titled "A New Internet World: The nature of IoT innovation" was given by Dr. David Faber, co-director of the Keio University Cyber Civilization Research Center.
Dr. David Farber is a famous professor and an expert in computer science and public policy. He is known as the father of the internet.
He assumed the office of co-director of the Cyber Civilization Research Center established at Keio University.
Dr. Faber was recently selected as a fellow of the famous American Association for the Advancement of Science (AAAS). This is the highest honor an American scholar can receive.
Dr. Masaki Umejima, Project Associate Professor at the Keio University Cyber Civilization Research Center ,served as a moderator for a lively panel discussion on the theme "Future investment in innovation, trust, externality, and ECHONET Lite".
Presentations by Panelists
Mr. Namihei Suzuki, Director of the ECHONET Consortium, introduced the current study status of ECHONET 2.0 issues being worked on by the Study Problem Working Group for Realizing ECHONET 2.0.
Mr. Naoyuki Taniguchi from NTT Anode Energy Corporation, introduced the building of a new mechanism to compliment energy distribution through an annual 100-billion-yen investment (600 billion yen over six years).
Mr. Hokuto Osaka, deputy director of Information Economy Division, Ministry of Economy Trade and Industry, introduced a measure to establish an industrial architecture design center to develop human resources with the aim of enhancing industrial architecture design ability through public-private partnerships.
Panel Discussion
After the presentations, the panel discussion was continued with Dr. David Farber who gave the keynote speech, and with Dr. Masaki Umejima as a moderator.
ECHONET Lite devices have been shipping for eight years and will soon reach 100 million units.
From now on, in building service systems, etc., it is necessary to ensure system reliability and expand the number of controllers in cooperation with the public and private sectors.
There were lively discussions, such as the need to proceed with a sense of speed, and a sense of crisis was shared.
Mr. Masato Nagasawa, Chairman of Promotion Committee of the ECHONET Consortium.
Mr. Nagasawa introduced ECHONET Lite domestic and international promotion activities.
Date
2:00 PM–5:30 PM, Monday, December 16, 2019
Venue
Seavans S-Building 1st Floor, Large Hall
Opening speech
Katsuhiko Hiramatsu, Representative Director of the ECHONET Consortium
Keynote speech
Dr. David Farber, co-director of CCRC, Keio University
"A new Internet world: The nature of the IoT innovation"
Panel discussions
"Future investment in innovation. Trust, externality, and ECHONET Lite"
 Moderator:
 Dr. Masaki Umejima, Associate Professor, Keio University
 Panelist:
 Hokuto Osaka, Deputy Director of the Information Economy Division, Commerce and Information Policy Bureau, METI
 Dr. David Farber, co-director of CCRC, Keio University
 Naoyuki Taniguchi, NTT Anode Energy Corporation
 Namihei Suzuiki, Director of the ECHONET Consortium
Presentation
Masato Nagasawa, Chairman of Promotion Committee
"Iroduction of ECHONET promotion activities for IoT society"
Closing remarks
Dr. Masaki Umejima, Associate Professor, Keio University