Points of collaboration
ECHONET Consortium and W3C WoT (World Wide Web Consortium Web of Things) are collaborating and working together to expand their areas of application and create new value.
Since the ECHONET Lite Web API formulated by ECHONET Consortium refers to the WoT specifications, there is an affinity for the specification description format. For example, Device Description of ECHONET Lite Web API is based on Thing Description of WoT.
As the results of our collaborative activities so far, the addition of ECHONET Consortium and WoT collaboration proposal to the collection of use cases listed by WoT, and the confirmation of ECHONET Lite Web API and WoT collaboration at the plugfest sponsored by W3C can be mentioned.
At this plugfest, the Thing (device) of WoT that includes ECHONET Lite Web API compliant server functions is implemented, and connections and operations from a general Consumer (application) of WoT to the Thing are confirmed.
Collaboration use case
As a typical and concrete use case for linkage between ECHONET Lite and WoT, we are proposing a smart home-related operation model that simultaneously controls multiple devices in the home immediately after going out or just before returning home. In addition to this use case, we believe that the linkage between ECHONET Lite and WoT can be applied in a wide range of use cases.

For details, please check Web of Things (WoT): Use Cases and Requirements.
Participation in plug fest sponsored by W3C
At the plug fest "WoT Sept 2021 Plugfest/Testfest" sponsored by W3C held from September 27th to October 1st, 2021, we confirmed the linkage between ECHONET Lite Web API and WoT.
It was confirmed that "Consumer" (application) of WoT could control a physical device via "Thing" (application) of WoT by connecting "Consumer" prepared by two companies and one organization connected to "Thing" equipped with ECHONET Lite Web API compatible server function and an automatic conversion function to the ECHONET Lite Web API prepared by ECHONET Consortium.
Specifically, it was confirmed that "Consumer" could operate (control and obtain the status of) four types of ECHONET Lite device: home air conditioners, lighting, temperature sensors, and illuminance sensors, which were connected to the home network on the backend side from back end, by using the functions of the ECHONET Lite Web API compatible server. The diagram below shows the configuration of the server and "Thing" of WoT and the relationship with the connected devices.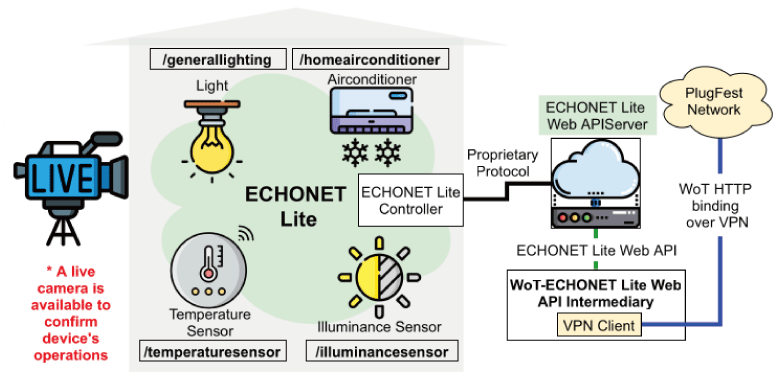 Plugfest results are published on the GitHub, which is maintained by W3C.
WoT Sept 2021 Plugfest/Testfest
We also participated in the Open Day held after the plugfest and discussed technical issues during integration.
ECHONET Lite Web API/WoT Integration
The study and development of the configuration of "Thing" of WoT for this plugfest, the construction of the entire system, and the response to testing were carried out as part of joint research between Japan Advanced Institute of Science and Technology (JAIST) and ECHONET Consortium.
Sample code provided by JAIST
Future plans
Currently, both ECHONET Consortium and WoT are continuing to formulate and revise specifications and will continue to conduct mutual reviews and collaborative work related to formulating specifications as necessary. At the same time, we will promote the development of an environment that will lead to the creation of new value and services through collaboration between ECHONET Consortium and WoT.