The ECHONET logo represents people as the central player of ECHONET surrounded by systems and the environment. Drawing everything with a single line is symbolic of the cohabitation of people and systems. Blue represents the color of the sea which nurtures life, the color of a clear sky spreading toward the future, and the color of a clean environment which is the target of ECHONET.
The Logo will be marked on home appliances which meet the ECHONET Specification.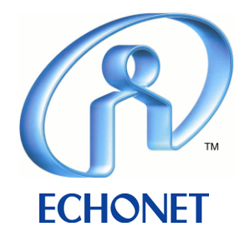 ,

,

,

,

 and the logo above are the registered trademark of ECHONET Consortium.