Shipment Quantity Survey Report
This report shows the shipment quantity of ECHONET Lite compliant products including smart meters from FY2013 to FY2022.
The cumulative number of ECHONET Lite devices excluding smart meters shipped from FY2013 to FY2022 reached 59.22 million units. On the other hand, the cumulative number of installed smart meters by FY2021 and planned smart meters to be installed in FY2022 reached 79.57 million units.
Therefore, the total number of ECHONET Lite compliant products by FY2022 reached 138.8 million units.
Table-1 Shipments by year and model of ECHONET Lite devices
(From FY2013 to FY2022)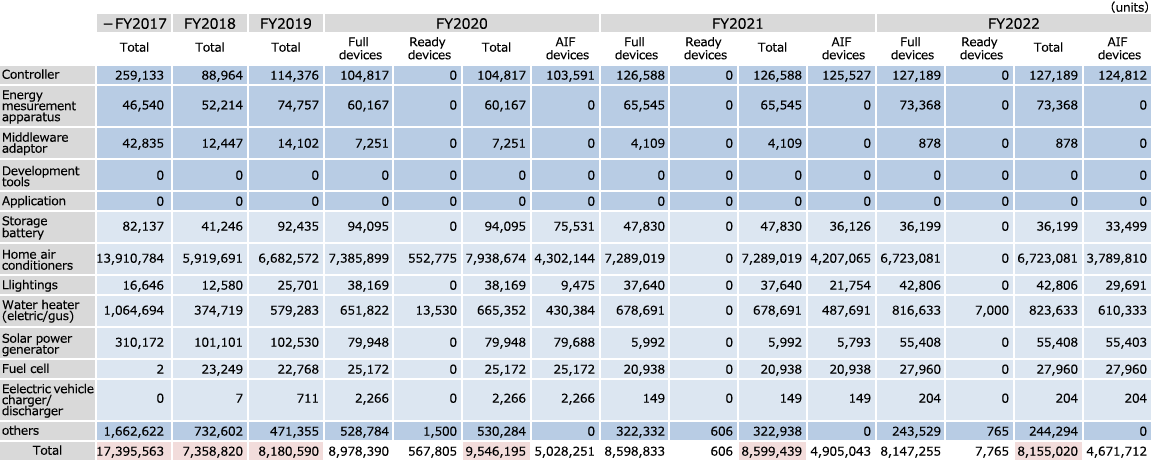 Remarks
●Full device means Full ECHONET Lite device which solely has the communication interface defined by ECHONET Lite standard.
●Ready device means ECHONET Lite ready device which becomes ECHONET Lite compliant device by connecting the ECHONET Lite middleware adapter (communication interfaces).
●AIF device is included in Full devices.