Shipment quantity survey
We will report shipment status of ECHONET Lite compliant products including smart meters from FY2013 to FY2019.
The cumulative total of ECHONET Lite devices, excluding smart meters, shipped from fiscal 2013 to fiscal 2019 reached 32.93 million.
In addition, the total number of installed smart meters up to FY2018 and the planned number of installations for FY2019 will be 61.13 million units.
Therefore, the number of devices equipped with the ECHONET Lite standard will reach 94.05 million units.
As a result, we expect to ship 100 million units by 2020, which is the target of the ECHONET 2.0 Vision.
In particular, in fiscal 2019, the number of photovoltaic power generators, storage batteries, fuel cells, which are expected to be used in VPP, and controllers and energy measuring devices by the ZEH subsidy business are increasing.
*What is VPP (Virtual Power Plant): Controls like a power plant by managing distributed power sources such as renewable energy power generation, storage batteries, electric vehicles (EVs), heat pumps, etc. with the IoT.
*What is the ZEH subsidy business: ZEH (Net Zero Energy House) will reduce energy consumption as much as possible by maintaining high indoor heat insulation and high efficiency equipment while maintaining a comfortable indoor environment. On the other hand, by utilizing the energy from solar power generation, etc., it is a house that consumes less than zero energy in one year.
The government is conducting a support project to promote the spread of ZEH, and one of the requirements is the installation of energy measurement equipment equipped with ECHONET Lite.
Figure 1: Cumulative shipments of ECHONET Lite-equipped devices / smart meters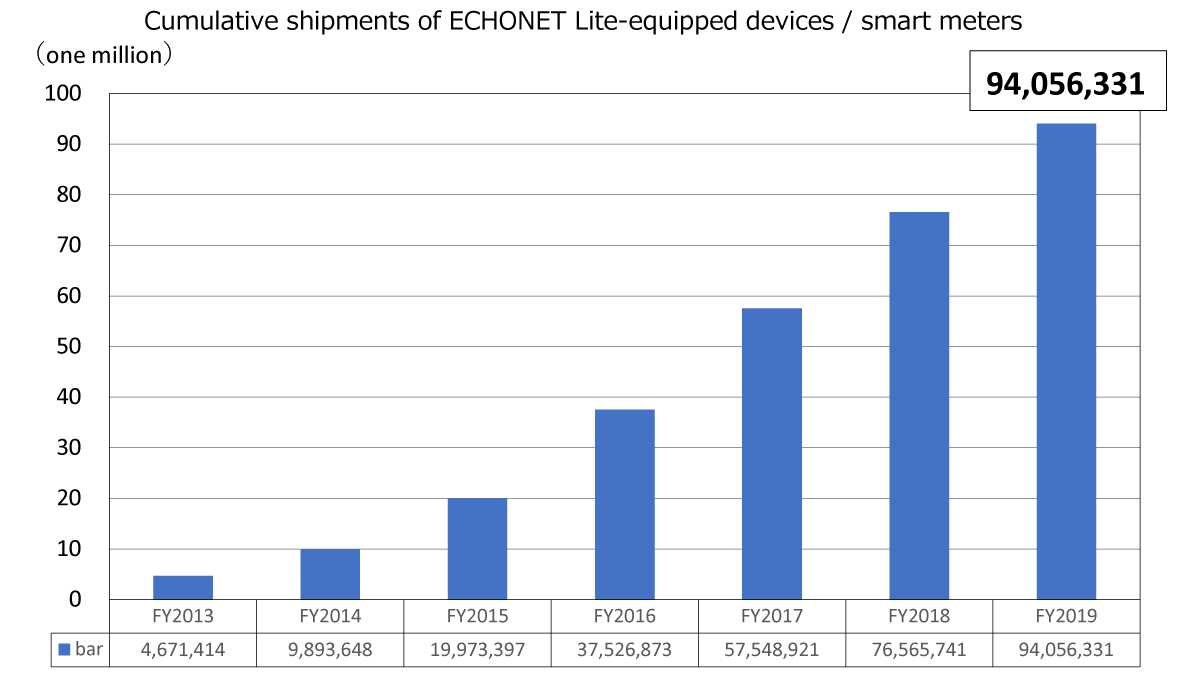 Note: For smart meters, the number of units installed up to FY2018
in the Electric Power Industry Handbook and the planned installation
values ​​stated in the Agency for Natural Resources and Energy
"About Utilization of Electricity Data" on August 29, 2019 are used as data.
Figure 2: ECHONET Lite Devices Shipment Status (FY2013-FY2019)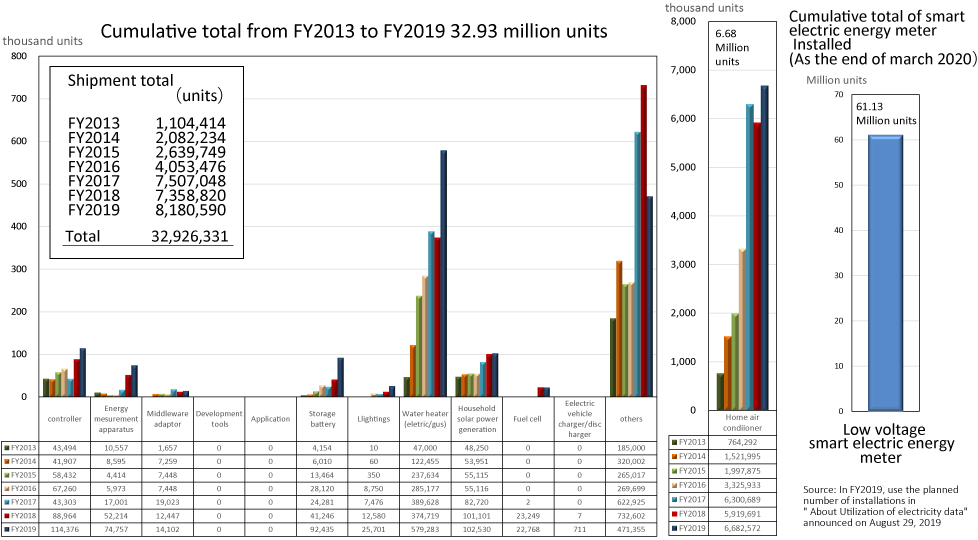 Table-1 ECHONET Lite Device Shipments Yearly / Model-Specific (FY2013-FY2019)